(INTEGRAL WATERPROOFING ADMIXTURE)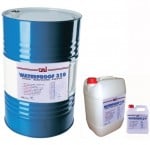 ADVANTAGES
Consistent Quality
Minimizes Cracks
User Friendly
Water Resistant
Enhanced Workability
Cost Effective
Optimum Bond Strength
Cleaner Worksite
PRODUCT
CMI WATERPROOF 310 is an admixture produced especially for the complete and permanent waterproofing of mass and reinforced concrete structures, ready-mixed and precast concrete, mortar screeds and etc.
It provides the following advantages when used:
- Facilitates compaction.
- Reduces water absorption and penetration.
- Improves workability and plasticity of mix.
- Increase compressive and tensile strength.
- Reduce shrinkage and consequential cracking & crazing.
TECHNICAL DATA
Colour : Light brown.
Form : Liquid admixture.
SG. : 0.99 – 1.01
Packing : 4 litres, 20 litres & 210 litres.
APPLICATION PROCEDURE
Mix Portland cement with aggregates well in mixer prior to adding CMI WATERPROOF 310 admixture. It can also be added to the gauging water at the rate of 500 ml per 50 kg cement. The use of CMI WATERPROOF 310 admixture allows the reduction of water to cement ratio by about 10 % without affecting workability or setting time.
* Technical references are available upon request.
STORAGE
Storage life is approximately 12 months if product is stored in a cool and dry place.
Note : Because it is not possible to give specific instruction for the various site conditions or to control the applications, the information here is for general guidance only and does not constitute an offer of warranty by the manufacturer.