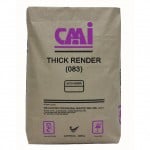 ADVANTAGES
Consistent Quality
Minimizes Cracks
User Friendly
Water Resistant
Enhanced Workability
Cost Effective
Optimum Bond Strength
Cleaner Worksite
PRODUCT
CMI THICK RENDER 083 is a high quality polymer modified cement/sand render for application on block walls, brick walls and concrete substrates. For application on smooth concrete substrates, a key primer coat with CMI MULTIFIX 188 is recommended for roughening of the receiving surface prior to plastering.
CMI THICK REN DER 083 is specifically intended to replace conventional site cement—sand mixture. It can also be used as a joint mortar for brick walls in interior or exterior applications.
TECHNICAL DATA
CoIour/ Binder : Grey/ Portland Cement.
Filler : Graded silica sand .
Aggregate size : 3mm max.
Additives : Water soluble polymeric fibre additives for workability & open time.
PH. : 12.
Potlife : 1 hour.
Density : Dry ± 1.8 kg/ litres ; Wet ± 1.9 kg/ litres.
Coverage : Approximately 1.8 kg/ m2 / mm thick.
Recommended thickness: Between 10 to 20 mm.
Mixing ratio : Approximately 18 % water on dry material.
Packing : 40 kg.
APPLICATION PROCEDURE
Add a 40kg bag of CMI THICK RENDER 083 into approximately 7.2 litres of clean water. Remove all loose particles, grease and foreign materials. Dampen the receiving surface if necessary. Mixing can be done manually or by an electric mixerfor about 5 minutes. Mixture must be used within 1 hour.
CMI THICK REN DER 083 should not be used on painted surfaces and should be cured with water spray for the first 2 days in hot and dry conditions.
STORAGE
Storage life is approximately 6 months if stored in a cool and dry place.
Note : Because it is not possible to give specific instruction for the various site conditions or to control the applications, the information here is for general guidance only and does not constitute an offer of warranty by the manufacturer.