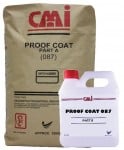 ADVANTAGES
Consistent Quality
Minimizes Cracks
User Friendly
Water Resistant
Enhanced Workability
Cost Effective
Optimum Bond Strength
Cleaner Worksite
PRODUCT
CMI PROOFCOAT 087 is a high quality two component polymer modified cementitious waterproofing slurry.
CMI PROOFCOAT 087 is used on concrete and mortar surface to prevent damping and water infiltration.
It can be used for internal and external applications. The substrate to be treated can be existing or new.
CMI PROOFCOAT 087 should not be used on painted surfaces.
TECHNICAL DATA
Form : Dry Mix( Part A ) and Liquid ( Part B ).
Colour : Grey( Part A ) and Milky White Liquid ( Part B ).
Binder : Portland Cement ( Part A ).
Filler : Combination of high grade silica sand.
Additives : High solids polymers for improved workability, adhesion & hydrophobic properties.
Compressive Strength : 28 days – approximately 35-40 N / mm2.
Flexural Strength : 28 days – approximately 10-12 N / mm2.
Bond Strength : 28 days – approximately 2 N / mm2.
Potlife : Approximately 45mins – 60mins at 20° C.
PH : 12.
Coverage : Approximately 1.4 kg/ m2 / mm thick.
Recommended Thickness : 2 – 3 mm per coat.
Toxicity : Chemically inert and non-toxic.
Mixing Ratio : Approximately 40% water inclusive of part B on dry material.
Packing : 25 kg & 4 Litres.
APPLICATION PROCEDURE
Surface area to be treated should be solid and cleaned thoroughly. Dust, dirt, grease and all impurities should be removed. Mix 4 litres of CMI PROOFCOAT 087 PART B with 6 litres of water into a 20 litres empty pail. Then add CMI PROOFCOAT 087 PART A into the diluted PART B. Mixing can be done manually or with any suitable type of electric mixer until a thick slurry paste is obtained. Apply by brushing/ trowel onto concrete surface. Two coats are recommended. The second coat can be applied 4 – 8 hours after the first coat.
* Technical reference is available upon request.
STORAGE
Storage life is approximately 6 months if stored in a cool and dry place.
Note : Because it is not possible to give specific instruction for the various site conditions or to control the applications, the information here is for general guidance only and does not constitute an offer of warranty by the manufacturer