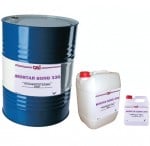 ADVANTAGES
Consistent Quality
Minimizes Cracks
User Friendly
Water Resistant
Enhanced Workability
Cost Effective
Optimum Bond Strength
Cleaner Worksite
PRODUCT
CMI MORTAR BOND 330 is a high quality Styrene-Butadiene polymer emulsion modified for use as a bonding agent, primer, damp resistant sealer, cement modifier for renders and screeds in interior and exterior applictions. It increases adhesion, bonding, water resistance, flexural, strength, durability and reduces drying shrinkage when used with cement/ sand mortars and cement based adhesives.
TECHNICAL DATA
Based Material : Modified SBR latex.
Colour : Milky White.
Form : Emulsion.
PH. : 9.5
Density : 1 – 1.025
Health : Non-toxic. Prevent from contact with eyes or swallowing.
Packing : 4 litres, 20 litres & 210 liters.
APPLICATION PROCEDURE
The substrate for application must be clean & sound, free from dirt, grease, oil, dust and loose particles. Concrete surfaces should be mechanically scarified or scabbed. Keep surface dampened with water for a minimum of 30 minutes prior to application, stir or shake container well before use.
For use as a neat primer, concrete overlay bonding coat, slurry bonding coat and as an admixture for mortar renders, screeds, patching repair work, damp resistant layer ( as an admixture, dilute by approx. 1 : 2 water).
* Technical references are available upon request.
STORAGE
Storage life is approximately 12 months if product is stored in a cool and dry place.
Note : Because it is not possible to give specific instruction for the various site conditions or to control the applications, the information here is for general guidance only and does not constitute an offer of warranty by the manufacturer.