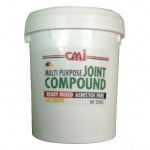 ADVANTAGES
Consistent Quality
Minimizes Cracks
User Friendly
Cost Effective
Enhanced Workability
Cleaner Worksite
Optimum Bond Strength
PRODUCT
CMI JOINT COMPOUND JC 3000 is a polymer based ready mixed compound that provides a smooth high quality finishing for gypsum board panel joints. It is used by professionals for embedding reinforcing joints tapes, finishing gypsum board panel joints, plastic corner beads and nail heads. It can also be used as a general purpose crack filler or texture decorative coating.
TECHNICAL DATA
Colour : White — off white.
Filler : Combination of high grade limestone.
Additives : Water soluble polymers for improving consistency, water retention & Adhesion.
Coverage : 1 kg of wet mixed compound to approximately 2 metres ofjoints or textures ( approximately 0.1m2 )
Water Demand : Approximately 50 % on dry material.
PREPARATION / JOINT FINISHING
Drive nail heads below panel surface without damaging paper face. Fill space between panels with compound using 5″ knife, center and press in joint tape. Tightly embed tape with knife, remove excess compound and apply it as a thin coat over the tape. Spread smooth with long parallel strokes. Apply compound over nail heads. When dry, use damp sponge to smooth any uneven surface. Apply second coat alongjoints using 8″ knife smoothing out 2″ inch beyond first coat. When dry, smooth surface with damp sponge. Apply a thin finish coat over second coat alongjoints using a 10″ knife and nail heads using 5″ knife.
JOINTING INSIDE ANGLES
Apply compound to both sides of angle using a 5″ knife. Fold tapes along its centerline to press into angle and embed with knife. Remove excess compound and reuse over the tape by skimming over with a thin layer. When dry, use a damp sponge to smoothen any uneven surface. Apply a second coat as a finishing coat, feathering outside the edges of the first coat slightly.
JOINTING OUTSIDE ANGLES
Fasten metal corner bead. Apply compound into perforations in the corner bead and even out excess compound. Ensure that the finish coat is dry and damp sponge to smoothen any uneven surface. Repeat with 2 more coats using 8″ & 10″ knife. For best results, wet sanding with sponge. Wait until compound feels dry to the touch. Saturate sponge with water, wringing out only enough water to eliminate dripping. Rub joints gently using a sweeping motion to remove high spots with as few strokes as possible. Clean sponge
often. If dry sanding, use 150 grit sandpaper wrapped around a piece of wood to avoid scuffling panel paper.
DECORATING
Surface must be dry, dust free and not glossy, and apply primer coat of CMI JOINT COMPOUND JC 3000 first coat or latex flat wall paint. Before painting, texturing or wallpapering, consult manufacturers direction.
TEXTURE FINISHES
For textured finish, use a paintbrush to apply ample amounts of compound. Texture surface immediately using paint rollers, sponges, crumpled paper or other tools for desired effect. Allow compound to dry completely before decorating.
DRYING TIME
Allow 24 hours between applications & before decorating.
CLEANUP
Wash tools immediately after use with soapy water. Wipe tools dry to prevent rusting.
STORAGE
CMI Joint Compound JC 3000 can be stored up to one year if unopened and stored in a cool and dry area. Unused mixed compound must be kept tightly sealed and stored in a dry area.
Note : Because it is not possible to give specific instruction for the various site conditions or to control the applications, the information here is for general guidance only and does not constitute an offer of warranty by the manufacturer.