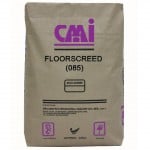 ADVANTAGES
Consistent Quality
Minimizes Cracks
User Friendly
Water Resistant
Enhanced Workability
Cost Effective
Optimum Bond Strength
Cleaner Worksite
PRODUCT
CMI FLOOR SCREED 085 is a high quality polymer modified water-resistant cement-based screed designed for leveling rough and uneven concrete floors. It is formulated specifically for improving the surfaces of concrete before tiling work is done.
CMI FLOOR SCREED 085 is water resistant and can be used in interior and exterior applications.
TECHNICAL DATA
CoIour/ Binder : Grey/ Portland Cement.
Filler : Graded Silica Sand.
Additives : Water soluble polymers for improved workability, water-retention and adhesion.
PH. : 12.
Aggregate size : 4.5 mm max.
Potlife : Approx 1 hour.
Coverage : Approx 1.7 kg /m2/ mm thick.
Recommended thickness: 5 – 25 mm per coat application.
Density : Dry + 1.7 kg/ litre ; wet/ + 1.8 kg/ litre.
Toxicity : Chemically inert and non-toxic.
Mixing Ratio : Approx 16% water on dry material.
Packing : 40 kg.
APPLICATION PROCEDURE
Receiving surface for screeding must be sound and free from dirt, dust, grease and traces of foreign materials that will effect adhesion. Where necessary, dampen the dry concrete floor before application of CMI FLOOR SCREED 085.
Add a 40 kg bag of CMI FLOOR SCREED 085 into approx. 6 liters of clean water. Use an electrical mixer to mix thoroughly. Allow mixture to stand for 5 minutes for additives to dissolve. Before using the mixture, mix again.
Apply by using a steel trowel.
STORAGE
Storage life is approximately 6 months if stored in a cool and dry place.
Note : Because it is not possible to give specific instruction for the various site conditions or to control the applications, the information here is for general guidance only and does not constitute an offer of warranty by the manufacturer.