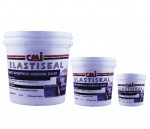 ADVANTAGES
Consistent Quality
Minimizes Cracks
User Friendly
Water Resistant
Enhanced Workability
Cost Effective
Optimum Bond Strength
Cleaner Worksite
PRODUCT
CMI ELASTI-SEAL is seamless water based elastomeric waterproofing coating. CMI ELASTI-SEAL provides absolute sealing and waterproofing for cracks, pre-castingjoints and all types of roofing including zinc, galvanized, asbestos, cement concrete tiles and roof-slate etc. Also useful for cracked roof-gutters and flashing.
TECHNICAL DATA
Properties : A ready mixed acrylic water-based paste for sealing cracks and joints on all, ceiling and roofs by forming a waterproof membrane. This thin membrane is exceptionally durable and flexible when dry.
Color : Standard colors are Grey and White. Other colors are available upon request with min. order required.
Density : Approximately 1.30 kg/ litre At 30 degree C.
Solid Contents : Approximately 54 % by volume.
Coverage : Approximately 1 kg per meter square ( 2 coats ) depending on the porosity of the (theoretical ) surfaces.
Drying Time : Dependent on the thickness of the coat applied, CMI ELASTI-SEAL will be tack – free after 30 min. to 1 hour. Dry after 2 – 12 hours. Hard dry after 24 hours.
Packing : 1.5 kg ,5 kg & 25 kg. Other size upon request with min. order required.
APPLICATION PROCEDURE
CMI ELASTI-SEAL is fast and easy to apply like painting with a brush, roller, or airless spray. On porous or powdery surfaces a 30 % diluted priming coat of CMI ELASTI-SEAL may be applied. For second coating, apply it undiluted to achieve the best result.
SURFACE PREPARATION
Surfaces to be applied must be clean, sound, dry and free from dirt, grease, dust and efflorescence. Thoroughly clean surface to be treated and brush away powdering coats. Clean tools and hand with water when wet. Dry material can be removed with a strong solvent.
* Not suitable for surfaces which are submerged for a long period.
STORAGE
Storage life is approximately 12 months if product is stored in a cool and dry place.
Note : Because it is not possible to give specific instruction for the various site conditions or to control the applications, the information here is for general guidance only and does not constitute an offer of warranty by the manufacturer.