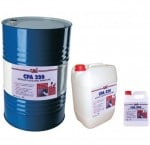 ADVANTAGES
Consistent Quality
Minimizes Cracks
User Friendly
Water Resistant
Enhanced Workability
Cost Effective
Optimum Bond Strength
Cleaner Worksite
PRODUCT
CMI CPA 320 is a wood-based resin plasticizer for cement mixes that conforms to BS4887. It helps to improve water-retention, workability, and compressive strength and reduces water to cement ratio by 10 to 15 %.
USAGE ADVANTAGES
- Cost saving where usage of lime is eliminated.
- Increases compressive strength and enhances durability.
- Improves workability for easier trowelling.
- Reduces water to cement ratio.
- Increases adhesion strength to substrates.
TECHNICAL DATA
Colour : Dark brown.
Form : Liquid.
SG. : Between 1 – 1.1
PH. : 9 – 9.5
Odour : Pleasant pinewood smell.
Toxicity : Non hazardous.
Fire hazard : Non flammable.
Mix ratio : Approximately 250 ml per 50 kg OPC ( Portland cement ).
Packing : 4 litres, 20 litres & 210 litres.
APPLICATION PROCEDURE
CMI CPA 320 should be added to the gauging water in the proportion of 250 ml per 50 kg of Portland Cement.
Stir the mixture of gauging water thoroughly before adding into cement/ sand mixture.
Note : Do not add undiluted CMI CPA 320 directly into the dry material.
* Technical references are available upon request.
STORAGE
Storage life is approximately 12 months if product is stored in a cool and dry place.
Note : Because it is not possible to give specific instruction for the various site conditions or to control the applications, the information here is for general guidance only and does not constitute an offer of warranty by the manufacturer.