(PLASTER AND MORTAR PLASTICIZER)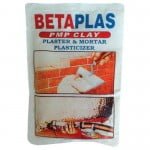 ADVANTAGES
User Friendly : Small Sachets For Easy Handling & Storage
Enhanced Workability And Adhesion Strength
Minimizes Shrinkages And Cracks
Optimum Plasticity For Spray Machine Application
Cost Effective Alternative To Slaked Lime
PRODUCT
CMI BETAPLAS PMP CLAY is a ready to use plasticizing powder additive added into plaster and mortar mixes to increase it's workability and adhesion strength. It is specially formulated as a superior alternative to lime putty or slaked lime for cementitious mixes at site. It conforms to BS 4887 ( 1973 ) and is suitable for use in interior and exterior areas such as general purpose repair mortar, wall plastering, floor screeds and masonry mortar for laying brick and blockwalls.
TECHNICAL DATA
Colour : Off white.
Additives : Water- soluble polymeric fibres for improved workability and strength.
PH : 8.5
Aggregate size : 0.5 mm maximum.
Potlife : Approximately 1 hour after addition.
Mixing ratio : 150 gm sachets to 5O kg OPC.
Packing : 150 gm sachets/ 60 sachets per carton.
Shelf life : 12 months if unopen.
Storage : Keep in cool and dry condition.
APPLICATION PROCEDURE
Substrate Preparation
Remove all traces of dirt, dust, grease and traces of loose foreign materials from substrate.
A key bonding coat is recommended for soffit and sheer wall concrete surfaces for thick plastering.
DOSAGE RATIO
Plastering Mortar : 150 gm CMI Betaplas PMP Clay: 5O kg OPC : 150 kg- 200 kg Sand.
Masonry Mortar : 150 gm CMI Betaplas PMP Clay: 5O kg OPC : 250 kg- 300 kg Sand.
Screeding Mortar : 150 gm CMI Betaplas PMP Clay: 50 kg OPC : 350 kg- 400 kg Sand.
MIXING
After adding the usual water requirement into the plaster or mortar mix, add one ( 1 ) sachet of CMI BETAPLAS PMP CLAY and sprinkle the powder over the mixture. Mix thoroughly until a change in consistency ofthe homogeneous paste is achieved. The mix is now ready for use.
NOTE : Because it is not possible to give specific instruction for the various site conditions or to control the applications, the information here is for general guidance only and does not constitute an offer of warranty by the manufacturer.